Who Is Loaning Money for Mortgage At These Low Interest Rates?
While this historically low interest rates (I saw 30yr fixed interest rates fell below 4% within the past couple of weeks) are amazing for those of us with mortgages, I have wondered who in the world is loaning this cheap money. As an investor just witnessing the housing bubble collapse and all the press over foreclosures and falling home values I would think any investors would require higher interest rates for the additional perceived risk. However mortgage interest rates have done just the opposite, and fallen to all time lows.
My suspicion has been at least that the US government has been underwriting or buying nearly all US mortgages originated in the past couple of years. After all when I refinanced last year I soon found that Fannie Mae had assumed ownership of the mortgage while Everhome continued to service the loan. It was the 1st time (that Im aware at least) that the US government actually owned one of my loans.
doctorhousingubble.com just posted a chart on mortgage originations that I think validates my suspicions.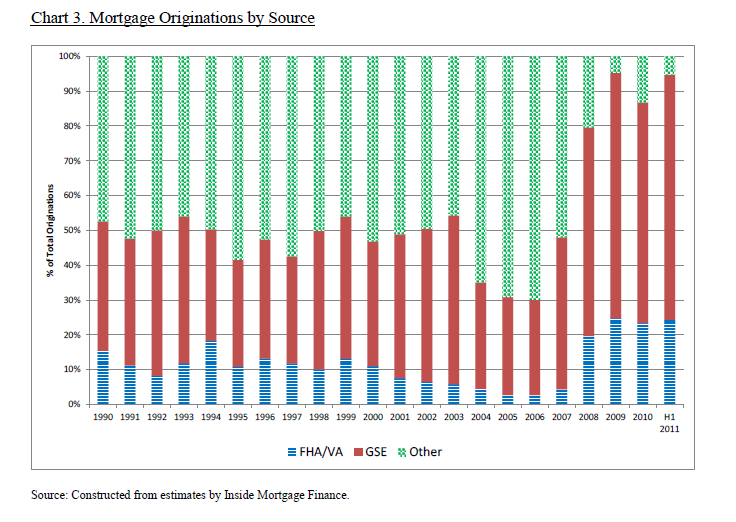 This shows a very sharp increase in the percentage in mortgage originations by US government agencies in the past couple of years.
I recognize this is one of the ways the US government is trying to help boost the economy, but it feels a little weird knowing that the economics of my household budget are "managed" by the government. While I can see the short term direct benefits to me, I don't know how to quantify the long term implications (if any) of this management by our government. I wonder if it will actually prolong the depressed housing market since I suspect its supporting artificial demand in the housing market and preventing housing prices from finding a true bottom.

No Closing Cost Loan Example (Nov 29, 2012) I've gotten multiple requests to clarify the recent no closing cost refinance loan I just completed. Its a bit of a vague term and could be done different ways, but the end result is that there are no out of...
3.5% 30 Year Fixed No Closing Cost Refinance (Nov 27, 2012) We finally closed this week on our 3.5% 30 year fixed refinance with no closing costs (no closing costs = a credit from lender/broker large enough to offset refinance costs). It took us over 2 months (67 days from initial...
Appraisal Appeal Unsuccessful (Nov 05, 2012) Not much of a surprise, the appraiser dug in and didn't budge after we submitted our appraisal appeal: Our more favorable comparables were based on county property records. Interestingly the appraiser indicated the MLS data is generally considered more accurate...